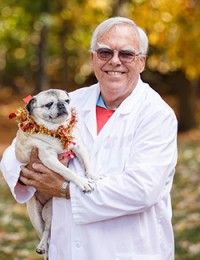 Dr. Arnold Rugg, Veterinarian
Dr. Arnold Rugg has been practicing veterinary medicine since 1974. After graduating from New York University with a BA in Classical Civilization, he attended the University of Bologna Veterinary College in Bologna, Italy. Dr. Rugg completed his ECFVG internship at Iowa State University. He practiced small animal medicine and surgery in Long Island and Rhode Island before founding Kingston Animal Hospital, PC in 1980.
Dr. Rugg is past president of the Hudson Valley Veterinary Medical Society. He is an affiliate member of the American Animal Hospital Association and the American Veterinary Society, as well as the New York State Veterinary Medical Society. In addition to being the director of the Kingston Animal Hospital, Dr. Rugg maintains his interest in small animal medicine and surgery through practice and continuing education. He has been active in founding and supporting the Animal Emergency Clinic of the Hudson Valley in Kingston.
Dr. Rugg and his wife, Elaine, have three grown children and are proud grandparents of six beautiful grandchildren. You will see them around the office, as well as their kitty "Boo Boo." They are spoiled and treated as family members by him and his family. He expects his patients to be treated with the quality of care and affection he gives his own pet.