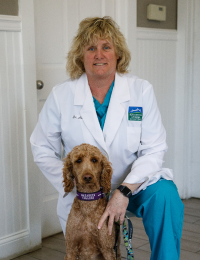 Dr. Beth Alden, Veterinarian
Dr. Alden is a graduate of Virginia Tech; she received a BS in Biology and a BS in Animal Science. She received her DVM in 1990 from the University of Tennessee in Knoxville. In addition to working part-time at Kingston Animal Hospital, Dr. Alden is a full Professor at UCCC at Ulster County Community College and directs their veterinary technology program. She is a member of the American Veterinary Medical Association and past president of the Junior League.
Dr. Alden is a native of Hurley, NY. She and her daughter, Taylor, currently live with their four cats (Cookie, Gilbert, Toesy, and Oliver) their standard poodle, Ellie, and a toy poodle, Zoey.